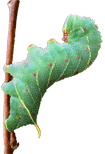 How to use the data base
The data contained in the data base can be presented in two ways:
- in a table form - or in a form of a distribution map. One must only choose the species and specify the time period (in a 1900 - 2005 range). Limiting the results to a month and/or it's decade is also possible.
The data base is fully interactive: one can add his own data (this feature is restricted to residents of Poland - if you have some data about polish sphingids, please contact us). Each record in the data base follows this pattern:
| | | | | | | | | |
| --- | --- | --- | --- | --- | --- | --- | --- | --- |
| Year | Month | Decade | UTM Grid | Stage | Specimens | Location | Observator | Description |
About the Database
The system and the WWW site were launched on 01-06-2005. The geographical description of observation localities is based on a military 10-km UTM grid. The data storage system uses a MySQL database accessed throught a PHP-based layout. The map generating system is an expanded version of the system used in the "Distribution of polish butterflies" (also part of this portal).
The database and WWW site were created by Sławomir Kuczowski.
Currently the number of all observations stored in the database is : 2578 (4762 specimens).
In case of any problems please contact us. We also look forward for any ideas or opinions about this site.
The database is supervised by: Grzegorz Banasiak & Sławomir Kuczkowski.