Munich, 14.I.2005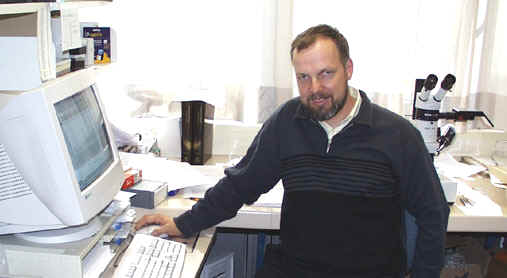 How and when did your passion for butterflies begin?
- It started when I was at the age of about 10. My father was a bird-watcher and it was boring for me that he always knew the species better than me. He donated his camera with a macro-lens to me and so I started to photograph insects.
Is there a specimen/species that is especially important for you? (Why?)
- For me, the Urania madagascariensis is the most beautiful moth.
What do you consider as your biggest success?
- Writing of "Geometrid Moths of Europe, Vol. 2: Sterrhinae"
If you would be asked about top-5 books, what would they be?
- In history Linneaus 1758 and the Seitz series, in recent times difficult to judge and to compare.
Three words about your job?
- I was lucky to get it.

- It is amazing.

- Sometimes I would like that the day had more than 24 hours.
Who is your entomological and non-entomological authority?
- Claude Herbulot

- Jesus Christ & Pope John Paul II
What is the impact of hobbyist`s activities on the development of science (lepidopterology) from your point of view?
- Enormous!
What would be your idea for popularization of lepidopterology in Poland to make it as popular as it is in Germany ?
- Taking care of young people, e.g. organising research excursions.
Your vision of future of lepidopterology?
- Actually, so many things are changing, probably Internet and molecular methods will dominate future lepidopterology.
Questions from polish lepidopterists :
Marcin Kutera :
Are there any information about Danaus plexippus in the western lands of Germany ?
- No
grzegorzb :
What is the situation concerning species protected by law - especially those kept in private collections? Is there any permission or a license needed? What happens if the specimen was caught before it was taken under law protection?
- There is a list of species especially protected and you are not allowed to have them in your collection, unless these have been caught before 1960. Today, you need a special permit for collecting. It is more or less difficult to get this license, depending on the region.
Jacek Kalisiak :
Is there any possibility of faunistic research done by amateur lepidopterists? Are there any difficulties in obtaining a permission for such a research? There are rumors that collecting insects by private persons is comletely prohibited - is this true and, if so, how does it relate to the faunistic research in Germany? Is it possible for amateurs to collaborate with the ZSM, and if so, then on what rules?

- Colectging is prohibited, but special permit can be obtained, if you write a proposal with more or less scientific background. This fact leads to a drastic decrease of faunistic research in Germany. The ZSM is a research institute for taxonomy and systematics. We cooperate with many amateurs. Most cooperations relate to our research focusses (Geometridae and Pyralidae).
Wojtek Kubasik :
What about Tortricidae types and Microlepidoptera collections, which came to Germany from grounds belonging now to Poland ?
- At ZSM comparatively few from Silesia , somewhat more from eastern Prussia . Much more in Berlin (Museum für Naturkunde der Humboldt-Universität).
Damian Bruder :
What is the situation of Limentis camilla and L. populi in Germany ? Is L. populi still seriously endangered with extinction?
- Yes
Damian Bruder :
Are there any actions taken regarding this species (i.e. planting its food plant - Populus tremula or protecting its habitats)?
- Unfortunately conservating is largely restricted to species protection from being collected. Habitat protection is less under focus. Planting of food plant for butterfly doubtfully successful - there is much of P. tremula already.
- Thank you for your time
With Axel Hausmann spoke Sławomir Kuczkowski